Check out what's happening at FortePiano Studio!
Congratulations to Aria, Winner of the Morning Practice Challenge!
Tuesday, March 7, 2023 by Kara Myers | challenges
Thanks to everyone who participated and sent in their sheets for the Morning Practice Challenge! A big congratulations to Aria Sherbo, who won by a landslide with 254 minutes!!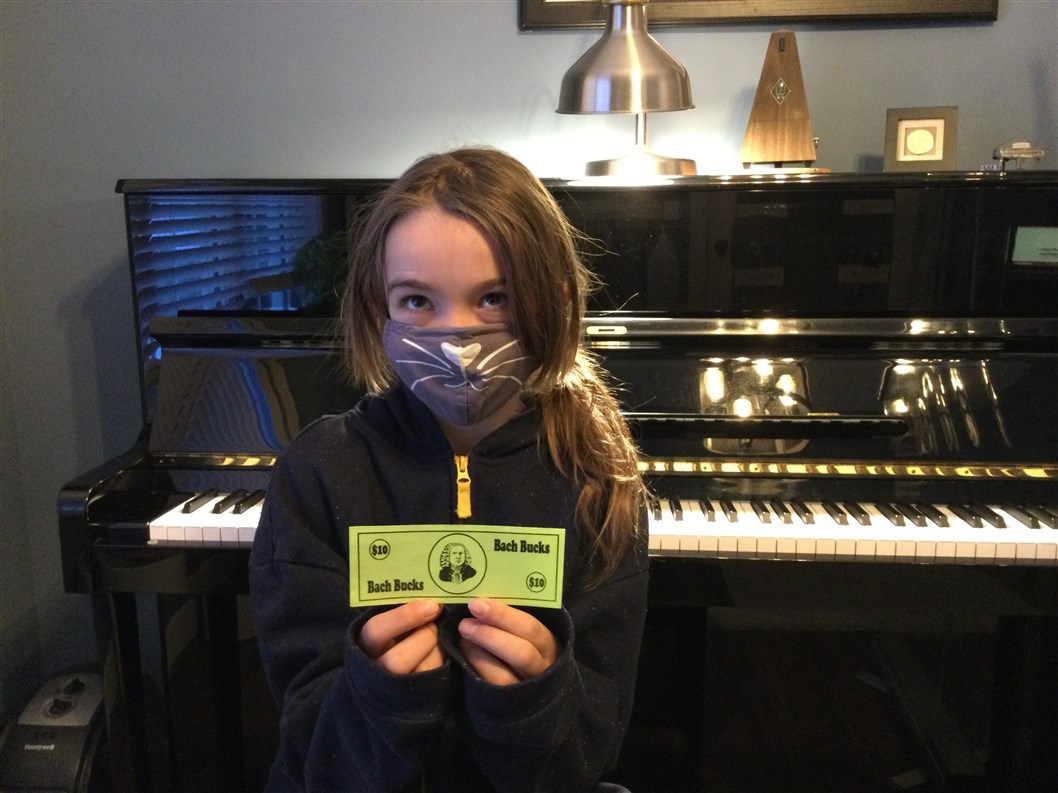 Here's the list of runners-up along with their morning* practice totals:
Jacob Pfeil, 165 minutes
Audrey Boland, 160 minutes
Katalina Leasak, 152 minutes
Arya Boland, 145 minutes
Jesse Wilson, 132 minutes
Robbin Bjorgum, 125 minutes
Evan Wilson, 92 minutes
Charles Boland, 89 minutes
Hannah Wilson, 82 minutes
Shiloh Colmenares-Mickler, 51 minutes
Danae Carlson, 30 minutes
*Some students submitted practice times in the afternoon. These were not included in their morning minute counts. However, these minutes still earned them their usual Bach Bucks for practicing as well as were credited toward other challenges such as the Mozart Challenge or the 100 Days of Practice Challenge.
All runners-up with at least 20 minutes each day for 5 days received $10 Bach Bucks at their last lesson. As our winner, Aria received an additional $10 Bach Bucks!
Great job, everyone!
Kara
Congratulations to Katalina!
Wednesday, September 28, 2022 by Kara Myers | challenges
A warm welcome back to everyone at FortePiano Studio! Every summer we hold a contest to keep students engaged with piano over the break, and this year Katalina is once again our winner!
Congrats Katalina! Enjoy your $10 Amazon gift card. 😀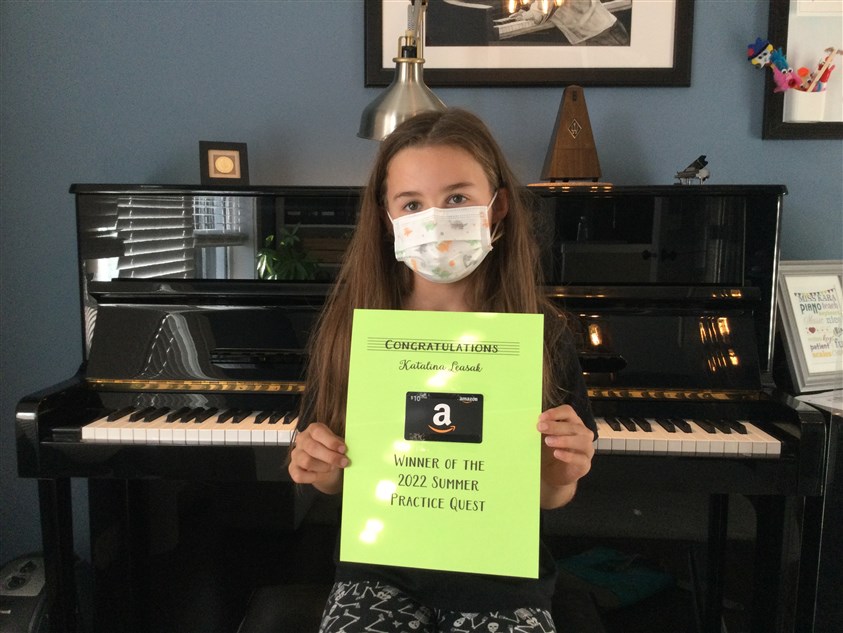 And the award goes to...Announcing the Best Pictures of the Music at the Movies YouTube Recital!
Monday, April 5, 2021 by Kara Myers | challenges
Thanks to everyone who participated and voted in this year's YouTube Recital! I was especially impressed in the quality of the entries this year; your compositions did a wonderful job of capturing cinema's favorite characters and movies.
The competition was close, but here are the winners in each age and level category!
Early Beginner: Julianna
Runner-ups: Blue Lightning by Tyler, Ghostbusters by Fallon, and Horses by Jacob
Late Beginner: Danae and Daniel
Runner-ups: Water by Aria and Snowflakes by Audrey
Intermediate: Willow
Runner-ups: Ghostbusters by Katalina, Kipo and the Age of Wonderbeasts by Arya, and Death of the Duck's Dad by Yuna
Advanced: Charles
Runner-ups: Harry Potter by Abby, Dual of Fates by Jesse, and The Terminator by Maya
Have a great Spring Break, everyone!
Kara