Blog
Check out what's happening at FortePiano Studio!
What's New and Exciting at FortePiano Studio This Fall!
Sunday, August 16, 2020 by Kara Myers | news
Hi piano students and parents,
Thanks for your amazing flexibility and support as we navigate these unprecedented waters of covid-19! I've heard back from almost everyone on their online/in-person/blended preferences, but if you haven't already, please send me a quick email to let me know which you'd prefer.
The majority of you are picking blended, which I'm really excited to try. As you might imagine, prepping for this fall has been crazy, between physically moving my studio; sourcing in-person hygiene and protective equipment; researching, ordering, and setting up new-and-improved online lesson technology; and upgrading my music library to include a copy of nearly every book owned by every student. But I'm super stoked to be able to bring you guys the very best that piano during covid has to offer!
Here are the upgrades you can look forward to if/when you or your has an online lesson this year!
Zoom platform:

Login to each lesson conveniently using your account on My Music Staff.
Gives the option for optimized sound transmission through the enablement of original sound (tutorial to come).
Allows screen sharing of apps for ear training, improv, technique, and theory, annotation, whiteboard marking, displaying multiple camera angles, and more!

High-definition Logitech webcam with mic:

speaking of multiple camera angles, my new webcam is being shipped as we speak! From now on I'll be conducting remote lessons via my laptop and webcam, with my iPad connected as a second overhead camera.

Classroom Maestro: Basically, I hook up new keyboard up to my laptop, and it displays the exact notes on the keyboard that I'm playing, plus shows them written on the staff. Great for online rote teaching, theory activities, scales, chords, and more!
If/when you come in-person, my new, larger studio now features:
A digital piano:

great for MIDI composition, playing with a harpsichord sound (the primary keyboard instrument in the Baroque era), duet playing, and more!

A challenge board:

a groundbreaking motivational tool for students of all ages and levels! "Gamifies" structured learning of scales, chords, note names, memorization, and more!
Whether online or in-person, young students can get excited about a variety of challenges and projects this upcoming year, including:
Retrace Bach's iconic and history-altering 400-km trek on foot from Arnstadt to Lubeck, participating in technique, ear training, composition, music history, and other challenges along the way!
Starting September 2020!
Movie scores are the current-day operas. Discover how every piece of music can be categorized as a song, dance, story, or painting, then use your newfound knowledge to compose your very own soundtrack!
Starting February 2021!
For those of you who were asking, a finalized fall schedule should be out in a day or two. There have been some slight tweaks, but nothing major. Piano will be starting on Monday, August 31.
Can't wait to see you then!
Kara
March News & Highlights!
Friday, March 13, 2020 by Kara Myers | news
Wow, it's been a busy couple months! We've had five group classes, completed the annual Morning Practice Challenge (scroll down for the winner list!), welcomed three new students - Diane, Danae, and Livy - and are halfway through preparing for our YouTube recital! Everyone has been composing an original piece based on two rhythmic motives and a scale of their choice. After notating their compositions, students are practicing them until they're ready to record, hopefully in the next couple weeks!
Congratulations to Livy, winner of our Morning Practice Challenge, who practiced a total of 292 morning minutes in one week! Runners-up were: Frankee (250 min), Abby (185 min), Audrey (158 min), Shiloh (152 min), Arya (148 min), Calie (115 min), and Danae (71 min). I'm so proud of all of you!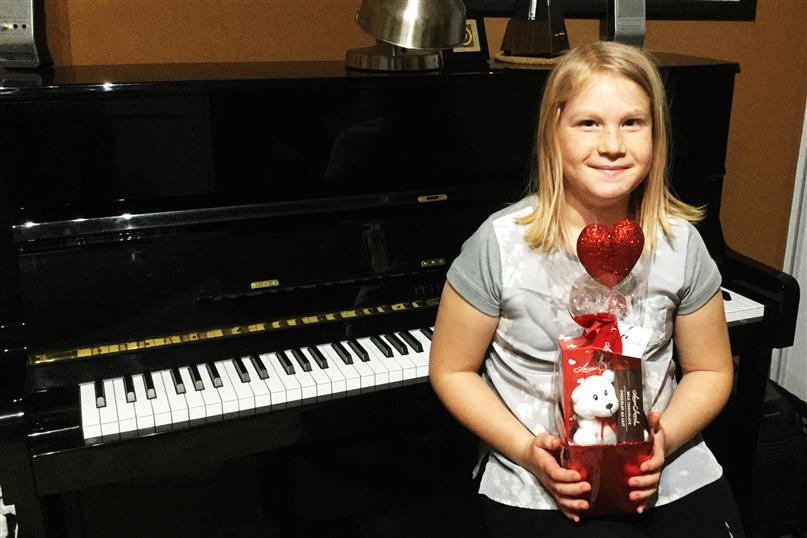 Lastly, parents, keep an eye out for your child's annual piano progress report. I've finished writing them and will send out next week. Parent-teacher interviews will follow the week of the 23rd-27th. Look forward to chatting with you then!
December News and Highlights
Saturday, December 21, 2019 by Kara Myers | news
Congratulations to everyone who participated in our Holiday Grooves Concert! You all worked so hard to prepare and I couldn't be more proud of you!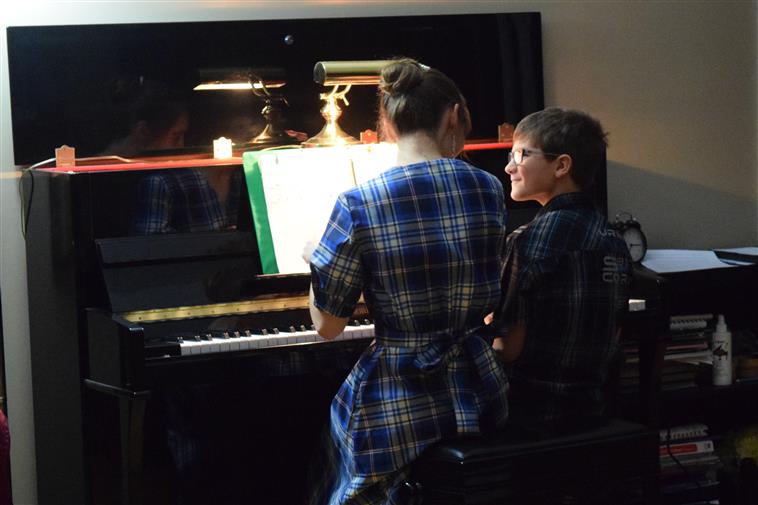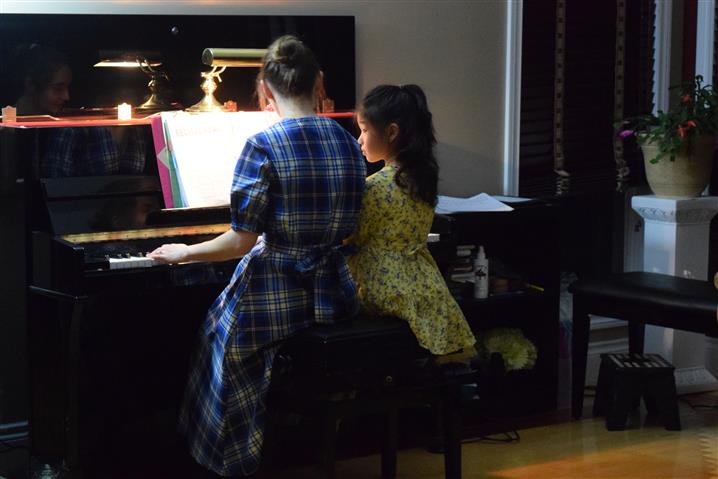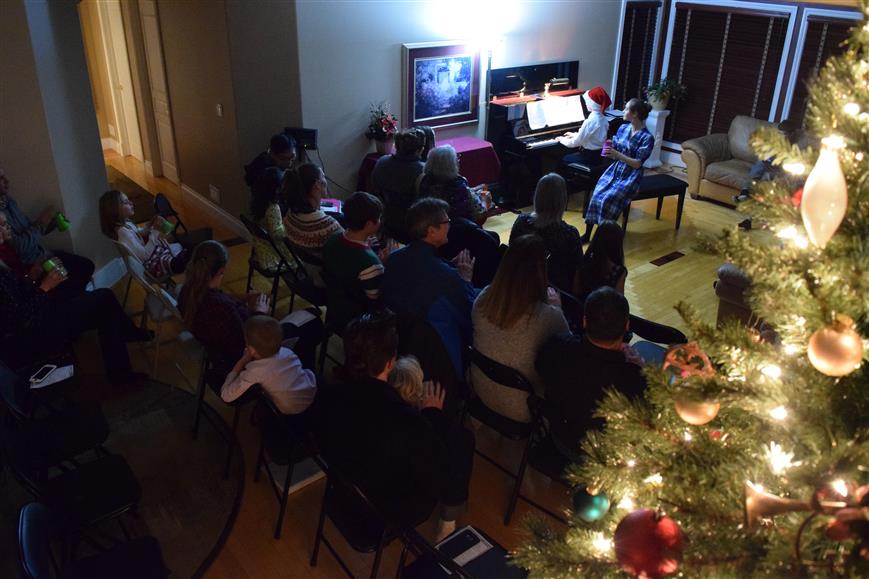 Also thanks to all the parents (and one grandparent!) who joined us for Bring A Parent Week! We had a lot of fun improvising, playing theory games, sight reading Christmas carols, cup tapping, and composing. We also challenged the parents to name five traditional holiday carols, and they came through with flying colors! The winners who named five out of five carols correctly are:
Team Evan and Sarah;
Team Charles, Joanne, and Ian;
Team Calie and Diane; and
Team Michael
Lastly, a warm welcome to new student Aria! We look forward to sharing our love of music with you in the coming year. 😊
Have a wonderful holiday everyone, and I'll see you in 2020!